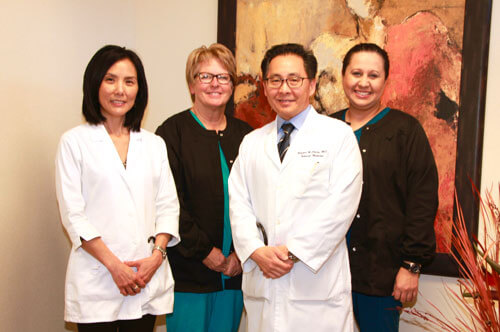 Membership Medicine
I would love the chance for you to find out more about my practice. Read about the many benefits of Membership Medicine here.
Contact Me Today
Dr. Chang's Credentials
• Board Certified, American Board Internal Medicine, Recertified 2010-Present
• Solo Private Practice, General Internal Medicine, Sacramento, CA 1997-Present
• Foundation Health Medical Group, General Internal Medicine, Sacramento, CA 1994-1997
• San Jose Medical Group, General Internal Medicine, San Jose, CA 1990-1992
• Internship & Residency, Cedar Sinai Medical Center, Los Angeles, CA 1987-1990
• MD, Georgetown University School of Medicine, Washington, DC 1983-1987
• BS, Premedical Engineering, Arizona State University, Tempe, AZ 1979-1983
My Message
Dear Patients,
The practice of medicine has truly been my calling and I cannot imagine doing anything else. I believe my strengths – the ability to easily engage others with empathy, common sense and honesty – led me to the practice of Internal Medicine and have helped me maintain long term relationships with patients and colleagues.
As a dedicated physician for the past 27 years, the most rewarding aspect is knowing that my patients appreciate my efforts to provide them with the best care possible. My father instilled a dedicated work ethic and a sense of responsibility that is reflected in every patient interaction. I spend long, busy days seeing patients followed by endless paperwork and patient phone calls into the late night hours. I personally call patients with lab or X-ray results or make the extra effort to check on how a patient is feeling. It has been an honor and privilege to care for my patients in this way.
Unfortunately, the healthcare landscape has been changing, rewarding 'volume practices' and requiring countless hours of administrative tasks. For a solo physician, this practice model is not sustainable and does not allow me to spend the kind of time that I believe is necessary to provide the highest quality of medical care.
Making the change to a concierge practice has allowed me to offer an even more comprehensive level of care in an unhurried environment. Appointments are extended, allowing us to fully delve into complex conditions, answer individual concerns and offer guidance on staying well. Patients can reach me directly and easily, and have peace of mind knowing that I will be available whenever needed.
I look forward to many more years helping you and your family with a secure and healthy future!
Bayard Chang, MD